**2020 Canadian Horse Calendars are sold out.**
Check back in October for 2021 Calendars featuring our favorite breed!
It's that time of year again! Time to order your 2020 Canadian Horse Calendar! The Canadian Horse Heritage & Preservation Society is once again offering a high quality wall calendar featuring full color photographs of Canadian Horses. In purchasing these calendars, you are not only getting a beautiful calendar, you are also helping CHHAPS in our efforts to promote and preserve this rare and special breed.
The Canadian Horse Heritage & Preservation Society's mission is to help preserve the breed by promoting it as widely as possible to horse owners and breeders around the world. This mission has become even more important now that the Canadian is once again on the list of critically endangered breeds.
The Canadian Horse wall calendars are high quality paper with spiral binding. The pages feature carefully selected photos of beautiful Canadian Horses from around North America, owned by members of the Canadian Horse Heritage & Preservation Society. Every year CHHAPS members are invited to submit photographs to be used in the calendar. The selections are made based on the general attractiveness and composition of the photo, seasonal appropriateness and to present a variety of ages and colorings, as well as to illustrate the diversity and versatility of the breed. The calendar has become CHHAPS' major fundraiser since the 2010 Canadian Horse calendar proved such a success nine years ago.
We have managed to avoid a price increase so Calendars are still just $12 each (US or Canadian) plus the appropriate shipping cost. They make great Christmas (or anytime) gifts and if you order 9 calendars ($108), you get the 10th one free! View the order form to see mailing costs.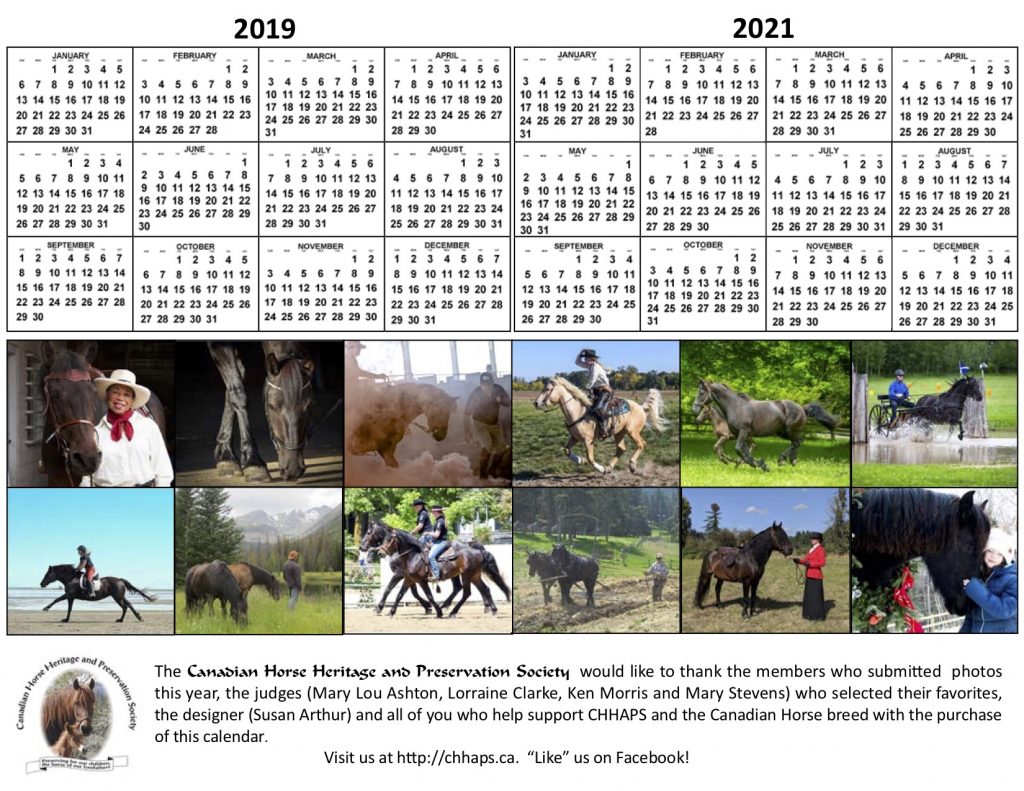 ORDER AND PAY ONLINE
Use the buttons below to order online and pay with your credit card or Paypal account. Please select the number of calendars you wish to order from the drop-down menu and the correct amount for mailing will be automatically applied. If you are paying in Canadian dollars and mailing to Canada, please use the first button below. If you are paying in US dollars and mailing to the USA, please use the bottom button.
---
CANADIAN BUYERS: SOLD OUT

---
U.S. BUYERS
---
If you have any inquiries or problems with your order, please email calendars@chhaps.ca.  
Thank you for supporting the work of the Canadian Horse Heritage & Preservation Society!
If you'd like to do even more to support the preservation of this heritage breed, you can join CHHAPS here.
---
Many thanks are due to Susan Arthur for once again creating the CHHAPS calendar again this year. Thanks also to the volunteers who took on the difficult task of selecting the most suitable photographs, and to the CHHAPS members who took the time to submit photos of their beautiful Canadian Horses. If you're not already a member, please join us and give your Canadian a chance to become an international pin-up star in the 2021 calendar! If you are a member, please consider volunteering for a position on the board or in another capacity. This precious heritage breed could use your help!
---