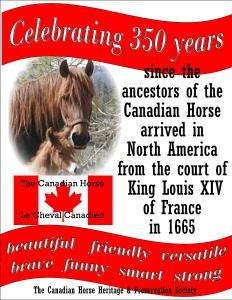 As part of the celebrations for the Canadian Horse's 350th Anniversary, the Canadian Horse Heritage & Preservation Society is putting together displays and demonstrations to take place in the Horse Barn and the Agrodome at the Pacific National Exhibition in Vancouver on one day only, Wednesday, August 26th, 2015. Mark your calendar and be sure to come see these heritage animals in action.
Canadian Horses will be coming from around the province to take part in the demo, which will feature driving and dressage demonstrations as well as a six horse quadrille team, performing throughout the day in the Agrodome. (Times: 12:00, 1:30, 3:00, 4:30, 6:00 p.m.) The public is invited to meet the horses – up close and personal – in the Horse Barn throughout the day as well. CHHAPS members, most of whom own Canadian Horses, will be happy to answer questions and share their experiences with Canada's National Horse.
It's not uncommon for members of the Canadian public to have never heard of the Canadian Horse, nor be aware that it was designated Canada's
National Horse by an act of Parliament in 2002. The Canadian is descended from the original horses that arrived in Canada in July of 1665, sent by King Louis XIV of France from his Royal Stables for the use of noblemen in the French Colonies in Quebec. The horses soon became indispensable to city dwellers and farmers alike, and eventually could be found right across Canada.
Over the years, the Canadian breed developed into a strong and hardy horse with legendary strength and stamina. Not only did the Canadian Horse help to build Canada by serving as a farm horse, carriage horse and riding horse over the centuries, it also figured prominently in founding other North American horse breeds, such as the Morgan, Standardbred, and Tennessee Walking Horse. In spite of its rarity today, it was once a well-known and popular breed, and so many were sent to the U.S. during the American Civil War that in spite of a robust population in the mid-1800s, the breed's future was in jeopardy by the end of that century. Steps were taken to preserve the breed then, and again in the 1970's when its numbers had dwindled to dangerous levels.
Again this year, in 2015, the Canadian Horse has been placed on the Livestock Conservancy's list of critically endangered breeds. Due to the recent recession and its effect on the market for riding and driving horses, the number of Canadian Horses of breeding age has declined sharply, without enough young stock being born to take their place. It's a warning call that horse lovers should take seriously, and attention must be paid to the careful breeding of remaining horses to allow the population of purebred Canadian Horses to grow.
Come see the Canadian Horse at the PNE!
Wednesday, August 26th, 2015.